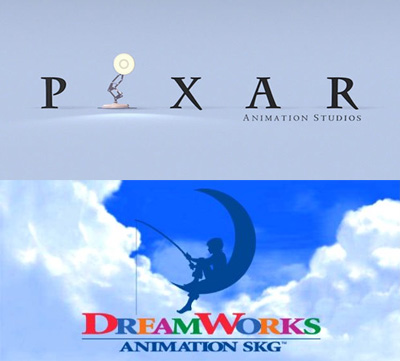 Sejarah Singkat Kedua Perusahaan Animasi Film ini
The Walt Disney Company
atau lebih dikenal dengan nama
Disney
adalah perusahaan konglomerat di bidang hiburan dan media terbesar di dunia. Didirikan pada
16 Oktober
1923
, perusahaan ini didirikan oleh
Walt Disney
dan
Roy Oliver Disney
dengan nama
Disney Brothers Cartoon Studio
. Pusatnya terletak di
Burbank
,
California
.
Laba Disney pada
2004
adalah sebesar $30,8 miliar
USD
dan merupakan komponen
Dow Jones Industrial Average
. Perusahaan ini dikenal sebagai
Walt Disney Productions, Ltd.
sampai
6 Februari
1986
dan kemudian diubah menjadi namanya sekarang.
VS
DreamWorks Pictures, juga dikenal sebagai DreamWorks, LLC, DreamWorks SKG, DreamWorks II Distribusi Co, LLC, DreamWorks Studios atau DW Studios LLC,adalah sebuah studio film Amerika yang mengembangkan, memproduksi, dan mendistribusikan film, video game dan program televisi.
Hal ini telah diproduksi atau didistribusikan lebih dari sepuluh film dengan box-office grosses total lebih dari $ 100 juta. Markas besarnya terletak di
Universal City , California,

Amerika Serikat .
Dan berikut di bawah ini animasi - animasi buatan kedua perusahaan tersebut yang bisa di bilang memiliki kemiripan yang sama dan waktu / tanggal perilisan film animasi tersebut sungguh pertarungan hebat untuk mendapati hati pemirsa film dua raksasa produksi film saling memberikan karya terbaiknya masing-masing dan hingga saat ini kedua perusahaan tersebut menjadi salah satu perusahaan produksi film tersukses di bumi .
Antz vs A Bug's Life
Antz (1998-10-02) DreamWorks
A Bug's Life(1998-11-25) Disney
Setelah menghidupkan animasi Disney studio dengan The Little Mermaid, Aladdin dan The Lion King, Jeffrey tapi Katzenberg justru dipecat. Katzenberg bersumpah membalas dendam dan mendirikan Dreamworks bersama dengan Steven Spielberg dan David Geffen. Dalam sepuluh tahun, Dreamworks 'Shrek 2 menjadi film terlaris ketiga tertinggi sepanjang masa.
--------------------------------------------
The Road to El Dorado vs The Emperor's New Groove
The Road to El Dorado (2000-03-31) DreamWorks
The Emperor's New Groove (2000-12-15) Disney
Setiap hewan peliharan dari kedua film sama-sama dipanggil "darling".
--------------------------------------------
Shrek vs Monsters, Inc.
Shrek (2001-05-18) DreamWorks
Monsters, Inc.(2001-11-01) Disney
--------------------------------------------
Shark Tale vs Finding Nemo
Shark Tale (2004-10-01) DreamWorks
Finding Nemo (2003-05-30) Disney
Pada tahun 2003, penulis buku anak-anak Prancis Franck le Calvez mengklaim Disney mencuri idenya untuk film Finding Nemo. Juga karakter Disney, Calvez yang Pierrot Le Poisson Clown tinggal di anemon laut dan kehilangan orang tua karena predator.
tambahan: sama-sama ada ikan nemo nya
--------------------------------------------
Madagascar vs The Wild
Madagascar (2005-05-27) DreamWorks
The Wild (2006-04-14) Disney
Fakta Unik: Sama-sama cerita tentang hewan liar yang nyasar ke kota
--------------------------------------------
Flushed Away versus Ratatouille
Flushed Away (2006-11-03) DreamWorks
Ratatouille (2007-06-29) Disney
Flushed Away awalnya akan disebut Ratropolis, tetapi judul ini diubah karena takut terdengar mirip seperti Ratatouille
--------------------------------------------
Dengan Tambahan
Admin dan di ambil Sumber
http://faisalicang.blogspot.com/